Coming Next
February 25 — April 12
Sat. 3pm & 7pm, Sun. 11am & 2pm
The show is 75 minutes with no intermission–perfect for all ages! There is a family workshop Saturdays at 2pm and Sundays at 10am before the show!
DIVE into adventure this Spring!
We are swimming along with Coral and her sisters as they adventure beyond the ocean. Join in on the fun with a pre-show family experience, coloring pages, and music from the show! These workshops take place with our Saturday 3pm show and our Sunday 11am show.
This fall, we will revive its smash hit Alice in Wonderland! Next, bring the whole family for our annual holiday season tradition, A Christmas Carol. And coming next spring is the return of our family favorite, Cinderella! We can't wait to see you around the Players Theatre!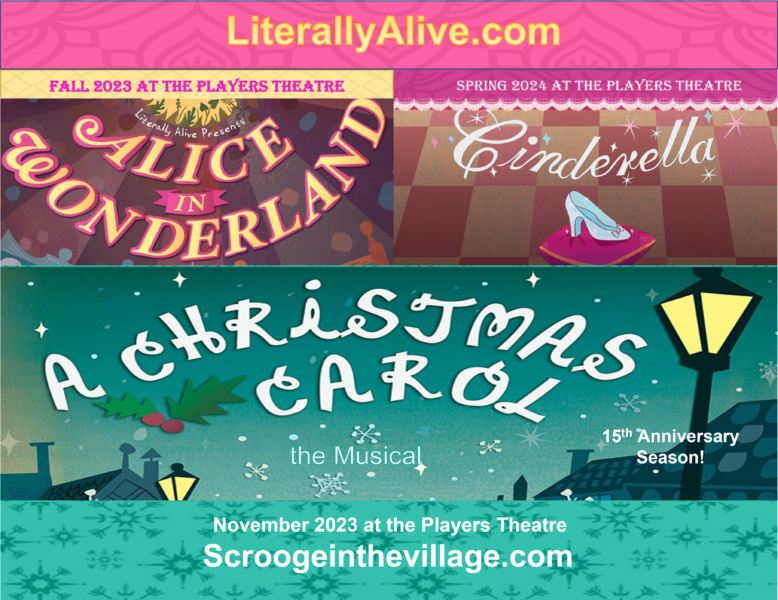 ---
Are you longing for a way to experience the magic of live theatre with your child? For a place where you and your family can engage with the performing arts in an intimate and welcoming way?
Literally Alive Family Theatre brings over two decades of excellent Off-Broadway performances to families who seek the best quality for their children at an affordable price. At Literally Alive, the audience does not just come to see a show – they are fully immersed in the theatrical experience as they are encouraged to explore the stories and how we bring them to life onstage. A day at our theatre is an event that both parents and children will treasure while creating joyful, unforgettable memories. Plan your day now!