NYC Mamí on the Move posts the hottest spots for infants, tots, tweens, teens, & everything in between.
Buy your tickets to Beauty and the Beast HERE!
Read her review and like her on Facebook!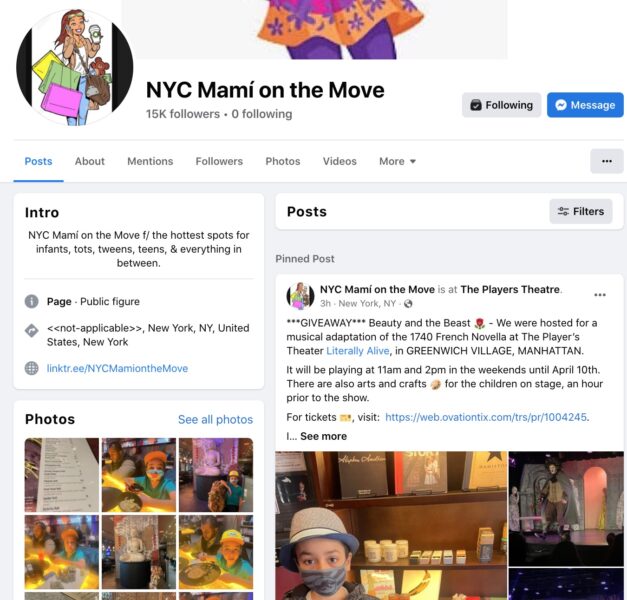 It was extraordinary. I never saw the D version of "Beauty and the Beast," so I had nothing to base it on. My child told me, "This isn't like the movie 🎥 I saw 😆." I told him that what he saw wasn't the real version and this was the true story. He just sat back and enjoyed it, thoroughly.

It kind of reminded me a bit if Cinderella with her two rachet sisters. I saw the Brandy version of that one 😂. It def had the jist of the Beauty and the Beast, though, with Beauty, the Beast, and the whole love story 💕. There weren't any fictional cookware 🫖 or accessory 🕯 characters dancing and singing. It was part musical 🎶, with a 4 piece orchestra 🎻, and part play.

We all enjoyed it so much. It's just as if we were watching a Broadway show 🎭. The props, actors, musical composure, costume design and overall story were magnificent. I was crying at certain points, bc it touched me so much. You can't make up these feelings. It was such a heartwarming story.
Beauty felt she had to choose between her father, who has been there for her throughout her whole life (her mother wasn't present), and the Beast, whom she fell in love with throughout the story. When she finally decided to accept the Beast's hand in marriage 💍, he turned into a prince 🤴🏻. There's a whole lot more to the story, and I'm not really sure how the Dis version goes, and have no care to view it, bc I know I will be totally disappointed after seeing this wonderful play.

"Follow your heart ❤️. It always knows the way." That was what her father told her when she asked him how do you know if you are in love. I got chills. It's simple enough for children to follow along with and is designed specifically for their viewing.

Whether you're a couple or friends, who want to watch a well put together show, in a smaller theater setting, on a hip street, MacDougal St., or a family wanting to get that theater feel, in a more intimate setting, this is a great show for all ages alike.

For tickets 🎫, visit: https://web.ovationtix.com/trs/pr/1004245